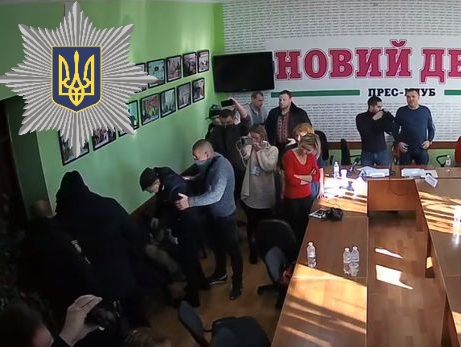 Arsen Avakov: Police detained a suspect in the attack on the newspaper office in Kherson
19 January 2019
The Minister of Internal Affairs reported that the police detained the head of the Kherson regional organization of the Socialist Party of Ukraine suspected in attacking the office of the newspaper Novy Den (New Day). The incident happened on January 18 in Kherson, during a press conference in the newspaper press club. Some unknown persons sprayed tear gas and opened fire with a traumatic pistol.

"A check is carried out on the detainee's involvement in a violent incident in the press club of the Novy Den newspaper, where a fight took place with the use of traumatic weapons and tear gas. A suspicion was declared to the detainee in committing a wrongful act under Article 296 (Hooliganism) of the Criminal Code of Ukraine and a decision would be taken on the measure of restraint", – informed the Minister of Internal Affairs.
Arsen Avakov recalled that Ilya Kiva, the head of the Socialist Party, announced his participation in the presidential election campaign. The Minister stressed that this is an unacceptable example of electoral activity. In such cases, the National Police will act tough in strict accordance with the law.
"The electoral campaign must be carried out calmly and peacefully – without shots, tear gas and acts of force! During this very special for our country period, we will be very tough in suppressing any attempts to destabilize the situation in the country at large and in any locality", – stated the Minister of Internal Affairs.