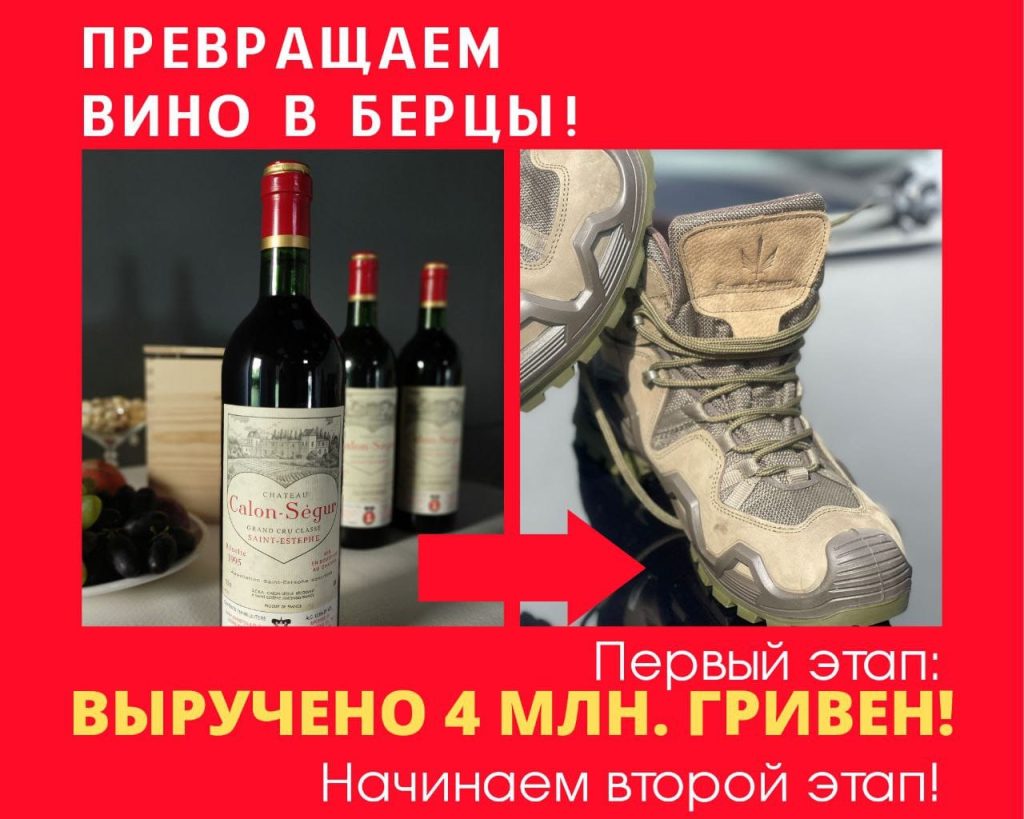 ARSEN AVAKOV: WE TURN WINE INTO ARMY BOOTS! SECOND STAGE
28 September 2022
Arsen Avakov announced the beginning of the second stage of his charity event, in which the politician donates lots from his wine collection, gathered more than ten years ago at wine auctions in London and New York. Charitable contributions are directed to the purchase of winter tactical boots for soldiers of the Armed Forces of Ukraine and the National Guard of Ukraine.
The politician said that as a result of the first stage of the action, more than 4 million hryvnas were received and the order for the first batch of boots has already been transferred to the manufacturer. Arsen Avakov stressed that immediately upon receipt, the boots will be quickly delivered to the front line, to the Ukrainian military.
The politician announced this on his Facebook page:
The results of the first stage of the campaign: we received 4 010 880 UAH of charitable donations, plus lots which were reserved, but not paid yet. The first batch of winter tactical boots was ordered, delivery is expected in 20 days. Immediately upon receipt – we will deliver them to the fighters at the frontline.
Let me remind you: as part of this campaign, I sell wine from my personal collection, which I have gathered more than 10 years ago at wine auctions in London and New York. The collection survived the bombing of Kharkiv and survived when my house was damaged by rashist raids. Therefore, I think it would be the right thing to exchange it to help our fighters who are clearing our land of scum!
I thank everyone who participated!
Today we are starting the second stage of our campaign: I invite everyone who wants to participate and by that help the Armed Forces of Ukraine!
Choose a charity lot, transfer funds to the Fund – accept a collection wine as a gift from me – have fun – and help the Armed Forces of Ukraine together with us!
Contributions are accepted in cash and non-cash form, in UAH and in foreign currency. Detailed information on participation can be obtained from Natalia Zakharova (tel/telegram +38 068 346 0663).
At the second stage, taking into account the requests received during the first stage, I slightly changed the concept of the presentation of lots: now on the link  you can not only see the characteristics of collection, but also read my subjective notes and personal impressions on unique qualities, bouquet, etc…
Lots of the Second Stage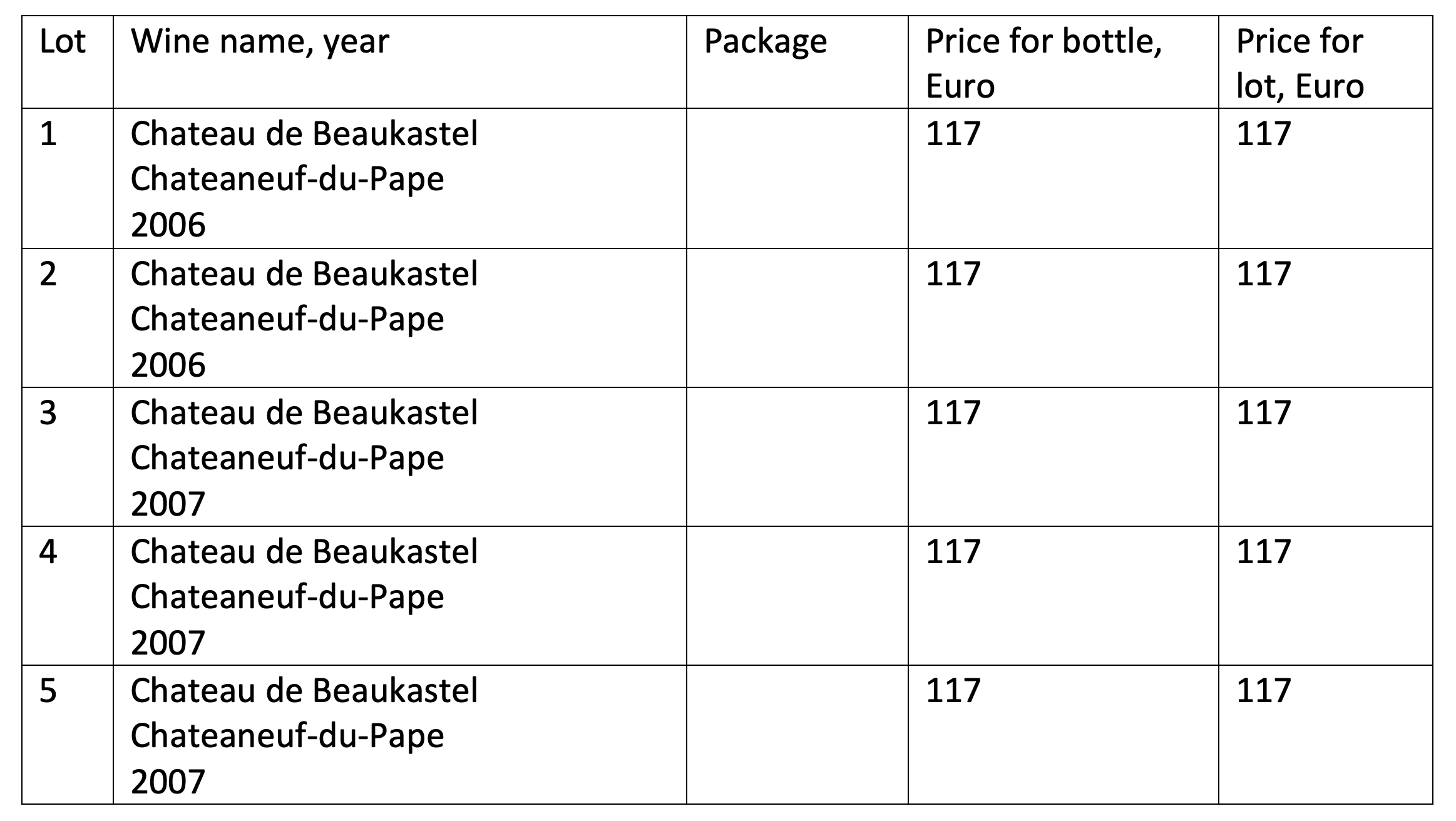 Chateau de Beaukastel
Chateaneuf-du-Pape, 2006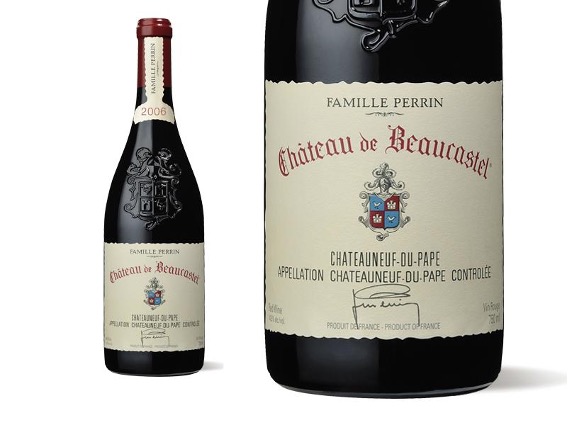 The wonderful Beaukastel of the Perrin brothers from the Châteauneuf du Pape. Soft, silky and at the same time dense wine. In a rich taste – longing dried cherries mixed with prunes and the obligatory tobacco note with a licorice hint – a long image, flowing in the aftertaste.
Great bouquet!
About ten years ago, when I bought this wine, Wine Spektator gave it a WS rating of 96/100. They weren't wrong. Me too:). My rating is 4.5 out of 5.
* * *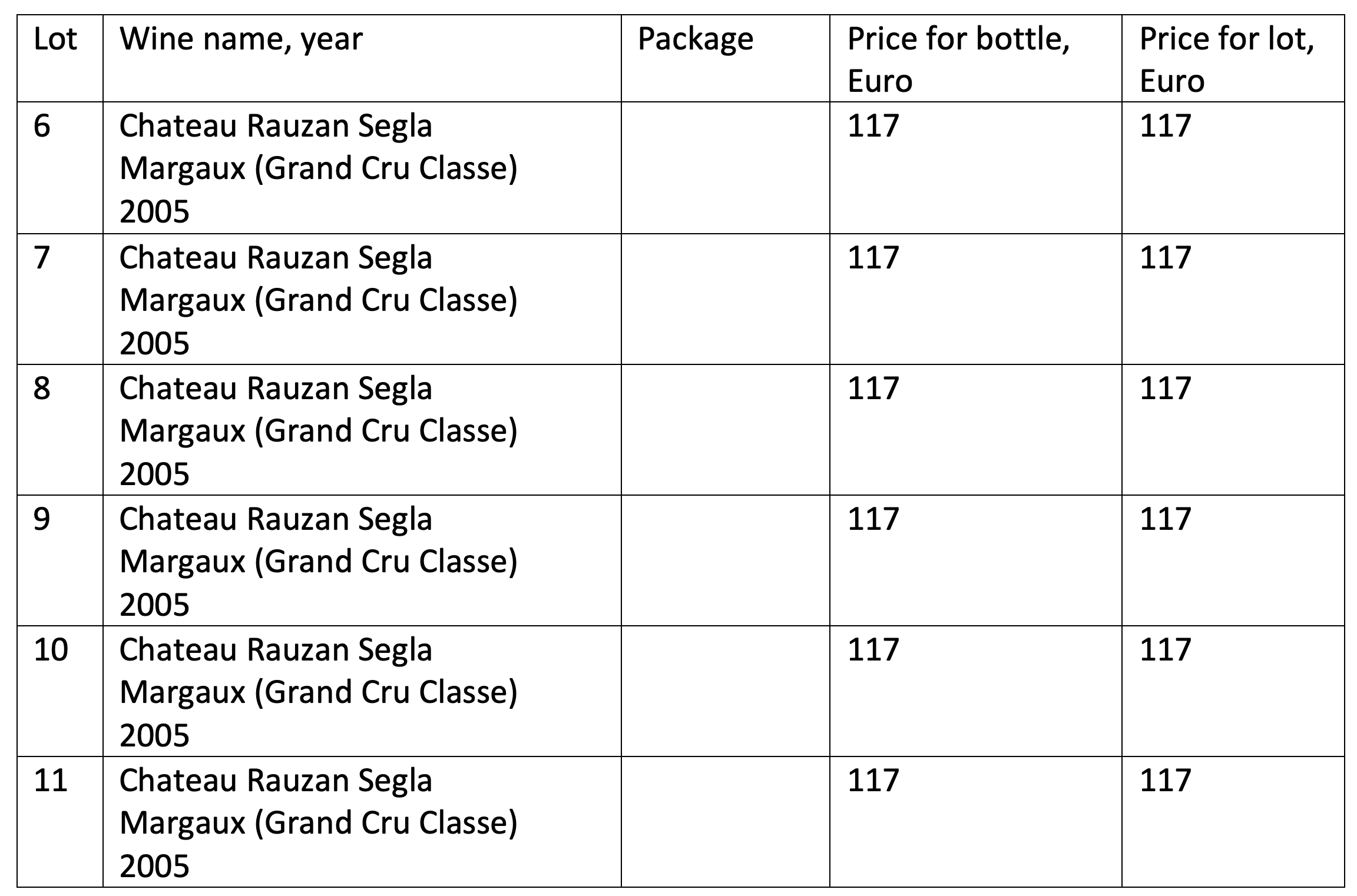 Chateau Rauzan Segla
Margaux (Grand Cru Classe), 2005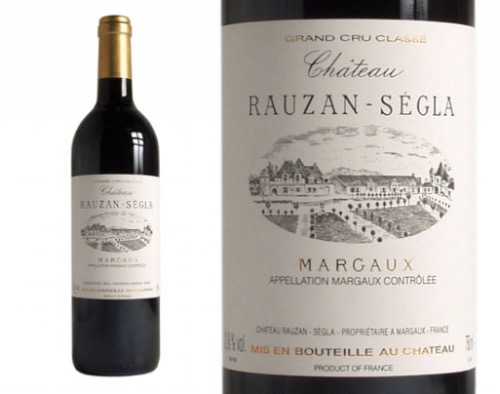 A luxurious margot vintage perfect for the entire Margot region of 2005.
This year's composition of the blend: cabernet sauvignon – 54%, merlot – 40%, petit verdot – 5% and cabernet franc – 1%.
I recommend decanting for 2-3 hours (letting it breathe, uncorking) before drinking.
A full, luxurious body enveloping the palate. Perfect balance of acidity, tannins and flavor palette.
In taste – leather, tobacco leaves, ripe black currant with its development, turning into a sweetish-perfect … One that grows only in Provence and… in Ukraine.
Wonderful long-lasting aftertaste.
My rating is 4.8 out of 5.
* * *

Pomerol, 2005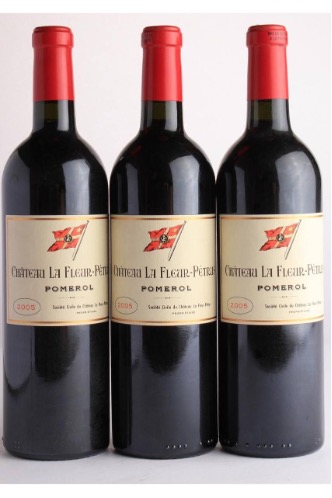 Critics are very fond of this wine and, as for me, it is one of the best wines of Pomerol. Of course, some people will say: "what about Petrus or Le Pin, which are several times more expensive?" I'll tell you: they're very good, but LA Fleur-Petrus is wonderful!
Taste and reflect – the wine was aged for 18 months in French oak barrels (50% of them new, others repeatedly used). What flavors has the wine acquired during this time?..
Soft, deep, meditative wine!
* * *

Chateau Peby Faugeres
Saint-Emilon Grand Gru (Grang Gru class), 2000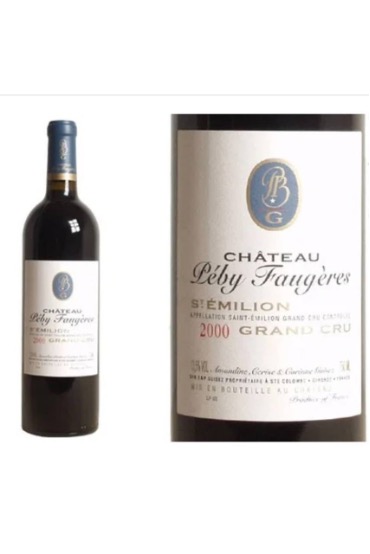 An adult and beautiful merlot.
About eleven years ago, critics after the purchase gave WS 92/100, PR 96/100.
Medium-bodied, closer to full-bodied wine. Perfectly structured, soft, with a balance of acidity at a high level.
Tannins after so many years are tangible and good in complex taste and important in the sense of aftertaste …
In taste: oak, stewed plum, blueberries, blackberry notes, leather and, of course, tobacco with a pinch of vanilla and dark bitter chocolate.
Long gorgeous spicy aftertaste!..
My rating is 4.3 out of 5.
A very rare wine.
* * *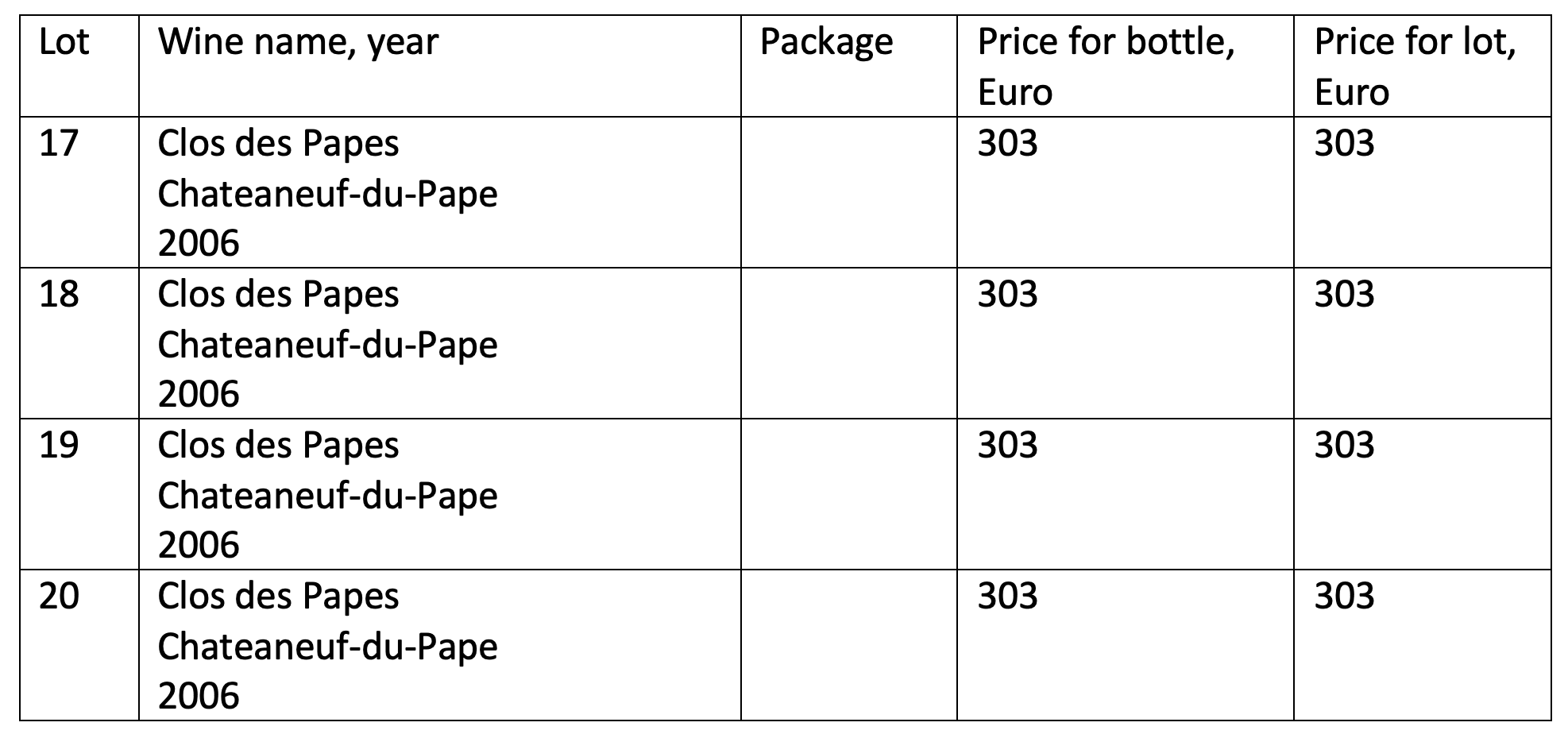 Clos des Papes
Chateaneuf-du-Pape 2006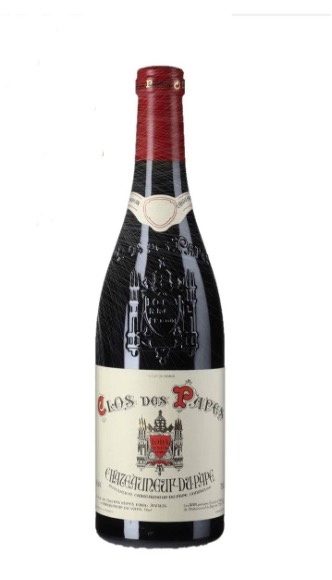 Wine is at the peak of its development. An excellent example of winemaking in Southern Rhone, France.
A recognizable style that has developed since the period of avignon captivity of the Popes in France. That is why, in fact, the papal coat of arms is mentioned in the name and on the bottle. But that's another story…
This wine has a rich bouquet from blackberries and plums to tobacco and oak barrels.
If you haven't tried this style, be sure to try it. Charmingly!
My rating is 4.2 out of 5.
* * *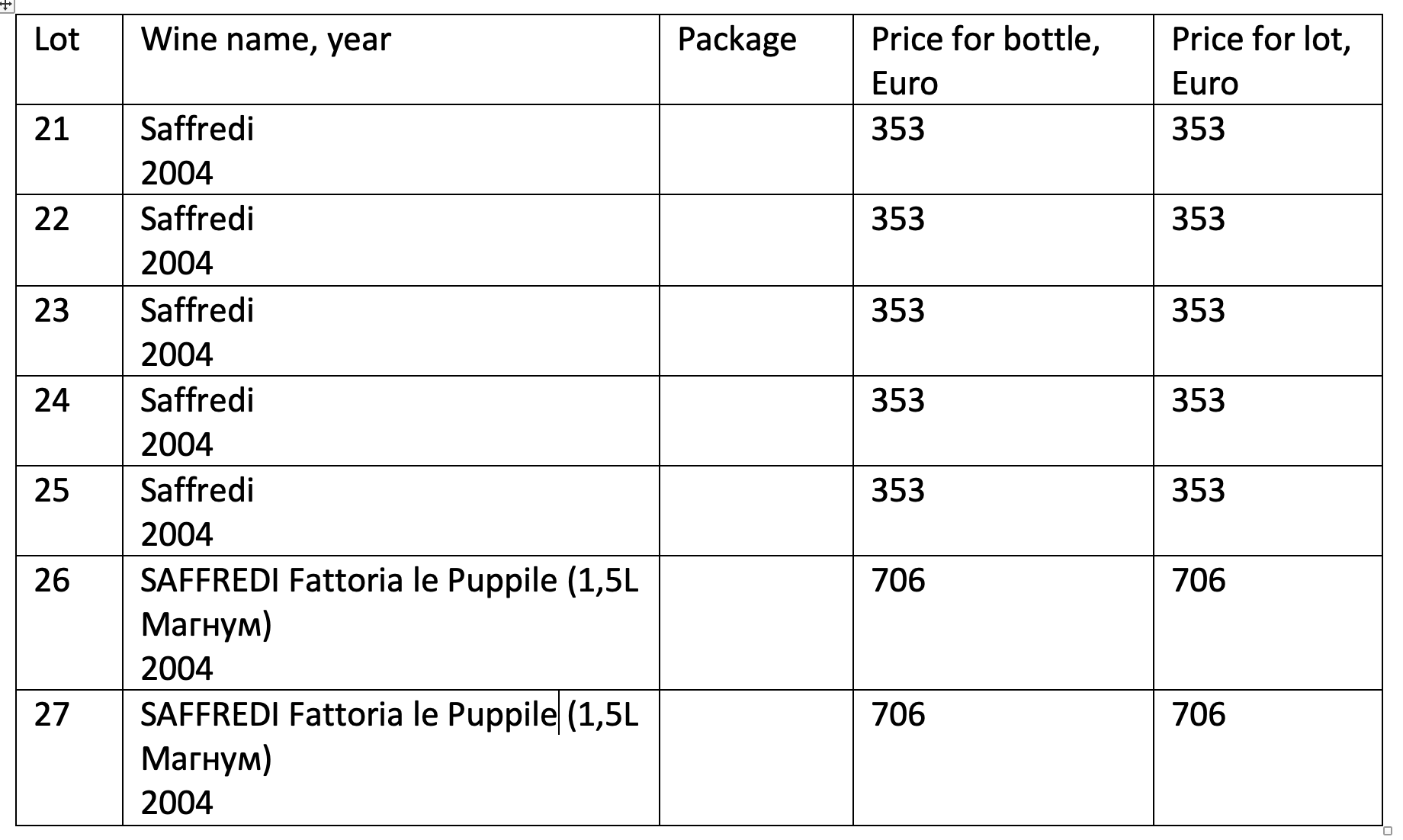 Saffredi 2004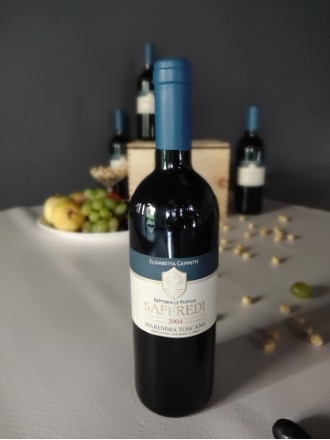 This year's vintage is just excellent – from Italy's best female oenologist, Elizabeth Gippetti.
Do not even think about trying it, without giving it at least an hour to breathe after uncorking … And then you will immediately feel on the tongue the most elegant tobacco leaf with a cherry tone, the overflow of overripe black currants and blackberries.
Very nice wine and a good harvest year!
My rating is 4.5 out of 5.
* * *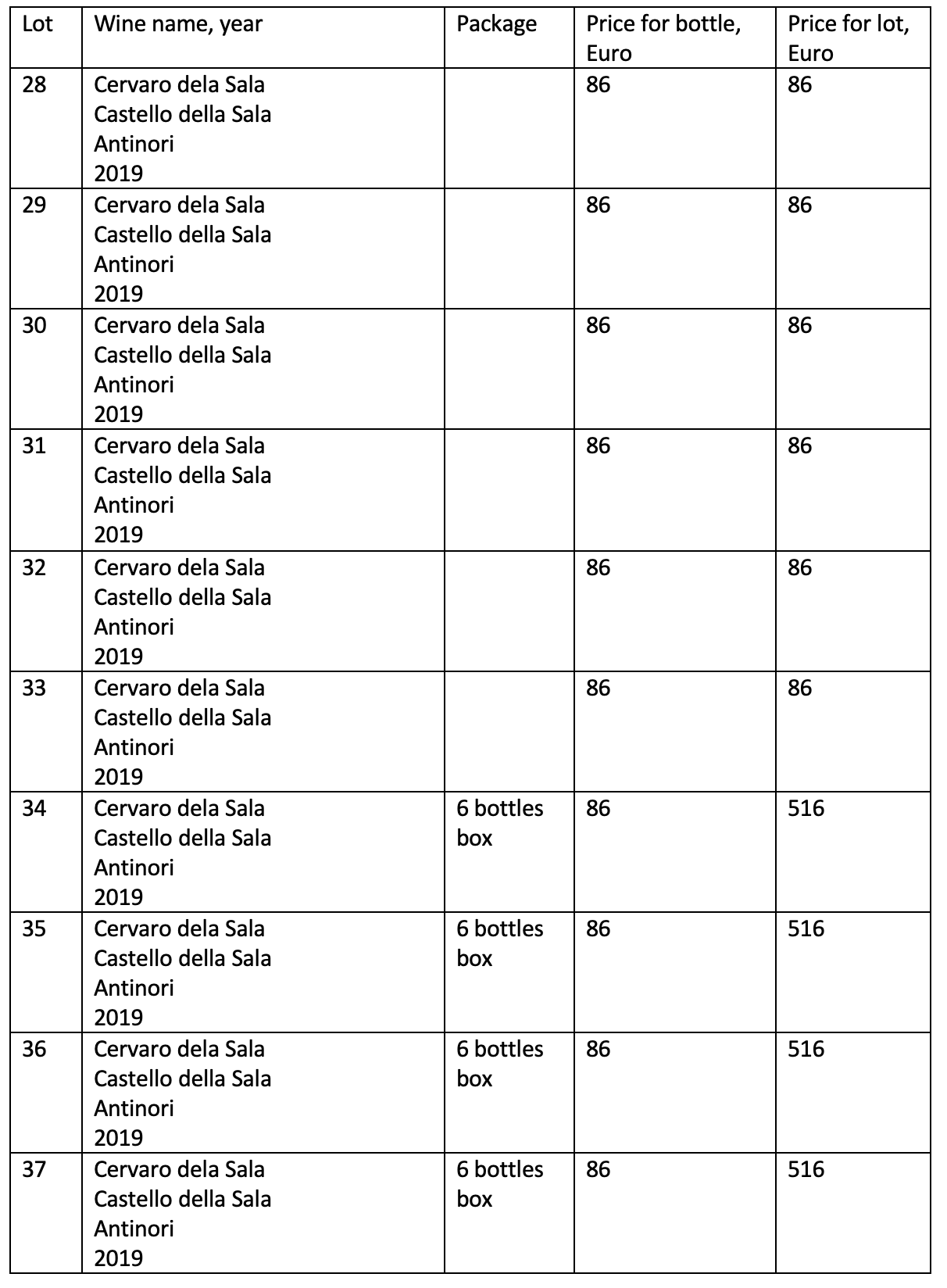 Сervaro dela Sala
Castello della Sala
Antinori 2019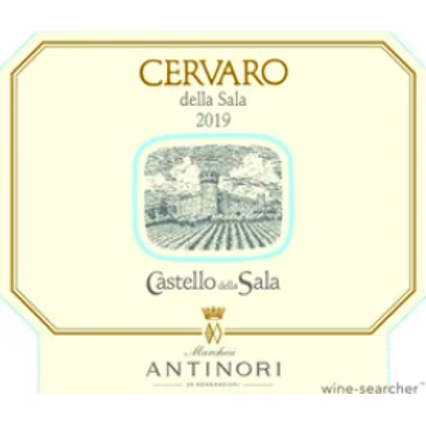 Great chardonnay. As for me – it is clearly in the top three best white Italian wines.
It is good to drink young, without delaying, in the next 2-4 years.
It develops perfectly in a glass.
Taste: minerality, peach honey notes and elegant bitterness. And, the peach is hard:).
Excellent aftertaste of pear shades…
One of my favorite white wines.
I bought it shortly before the war…
Rated 4.3 out of 5.
* * *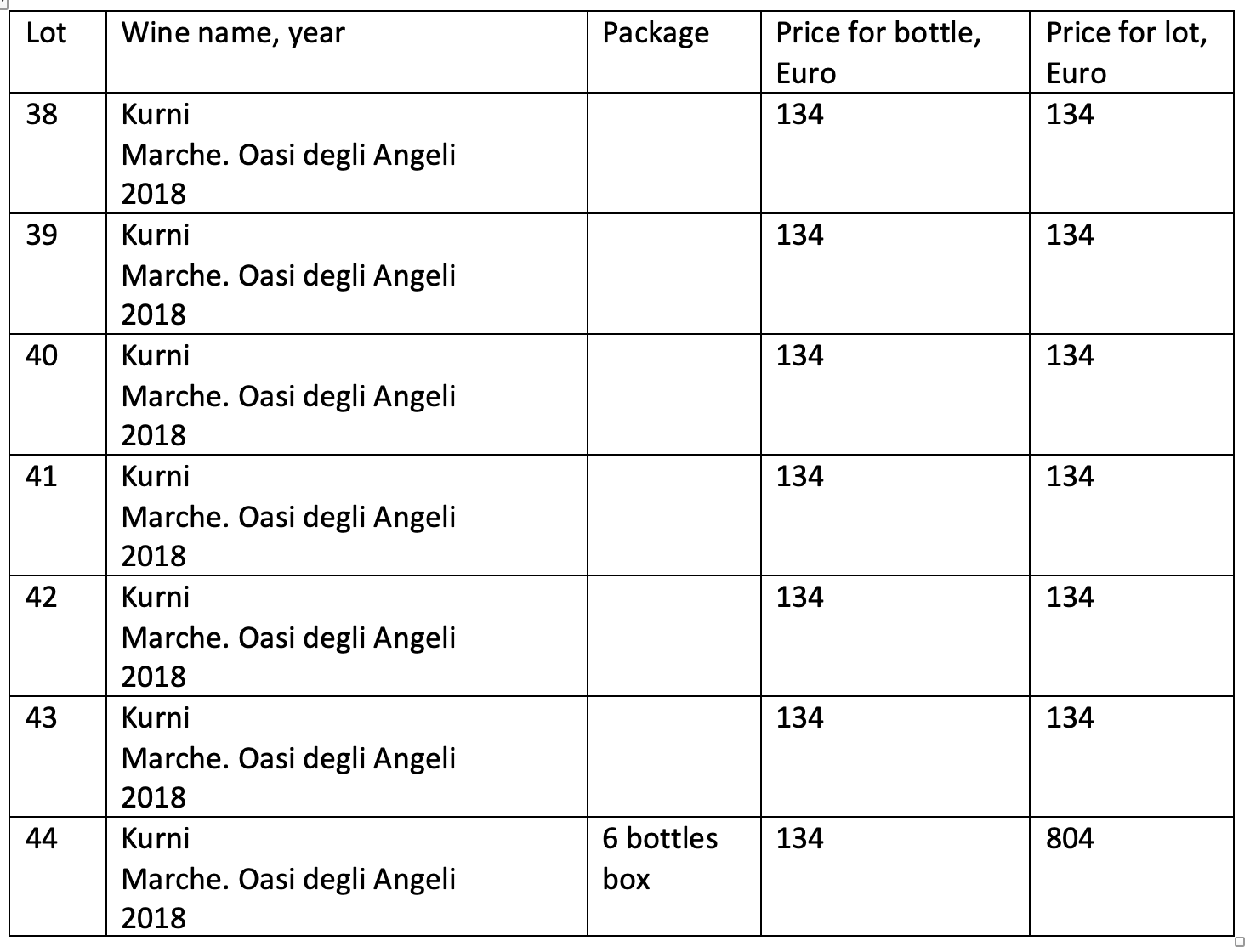 Kurni
Marche. Oasi degli Angeli 2018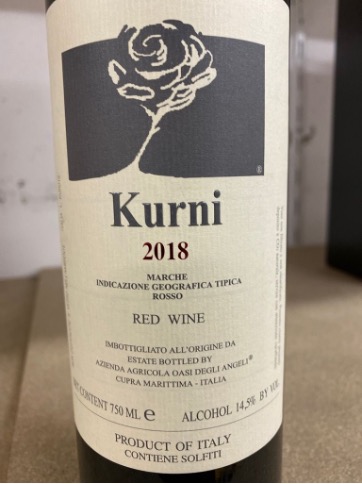 Wine, loved by many. Young vintage of 2018.
In a good way, it should be kept in the stash (cellar) for another 2-3 years. But even now it's very good.
First, be sure to uncork and let the wine breathe for at least an hour in a bottle or decanter … So the wine will be fully revealed to you.
With the first sip you are immediately greeted by the signature sweetness of Kurni. Immediately, it even seems excessive, but in the course of development, leather notes appear and the taste palette shifts to a more restrained taste of vanilla-fruit parity.
My rating is 4.25+ out of 5.
Very sociable, easy to drink wine!
* * *

Chateau FIGEAC Grand Cru 2000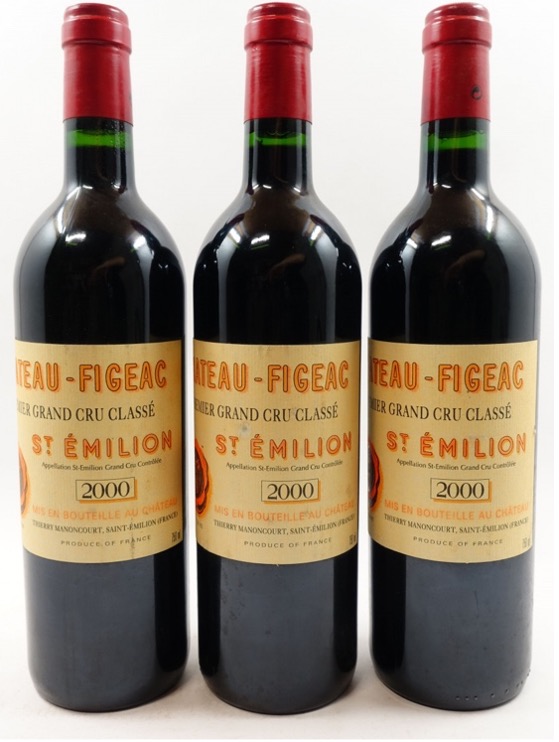 Classic strict and at the same time lush bordeaux.
No sweetness.
A decent balanced body.
The taste palette is dominated by tobacco, especially at the finish line. In addition, there are classic black currants, leather and plum notes with a light, non-spoiling bitterness of burnt butter.
Brutal and adult wine. Fans of the brutal genre love it.
My rating is 4.2 out of 5
.* * *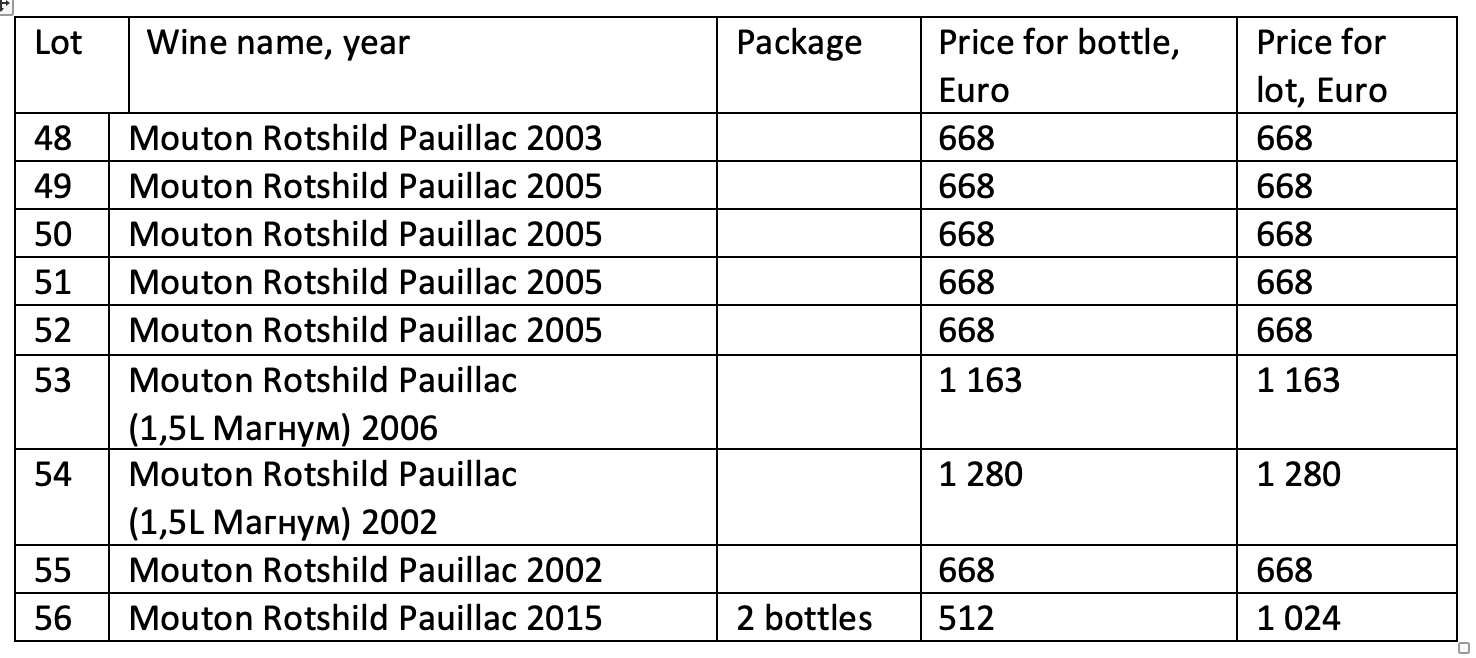 Mouton Rotshild Pauillac, 2006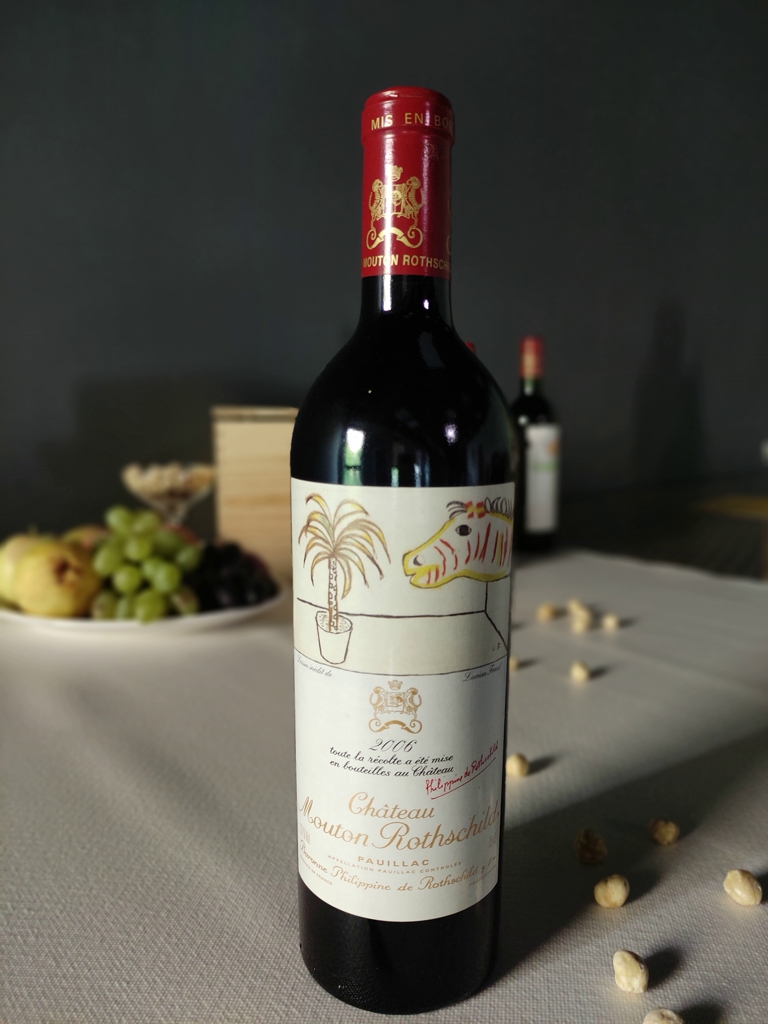 Assessing mouton is not easy at all – it's like looking for spots in the sun🌞.
Gorgeous, traditionally elegantly soft Moutonian style. Wine is now 16 years old and, at least, it will be in great shape.
A stunningly harmonious wine. There is no point in describing separately the taste, acidity, tannins – it is filled into a single harmony of balance!
And yet – I will single out the sweet tantalizing aromatic note of leather and resinous-phenolic barrel manifested in this vintage.
Pure pleasure!
A Classic of Bordeaux!
My rating is 4.75 out of 5. The famous Robert Parker estimates this taste as much as 98+ out of 100!
* * *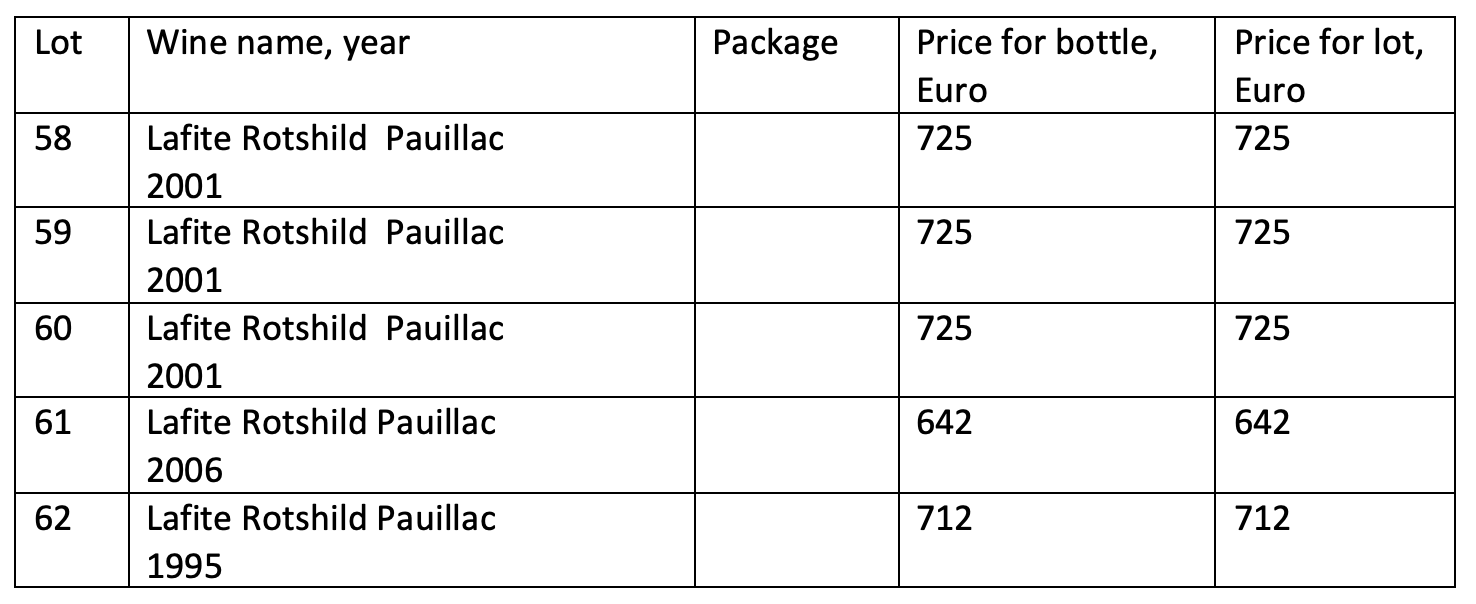 Lafite Rotshild Pauillac, 2001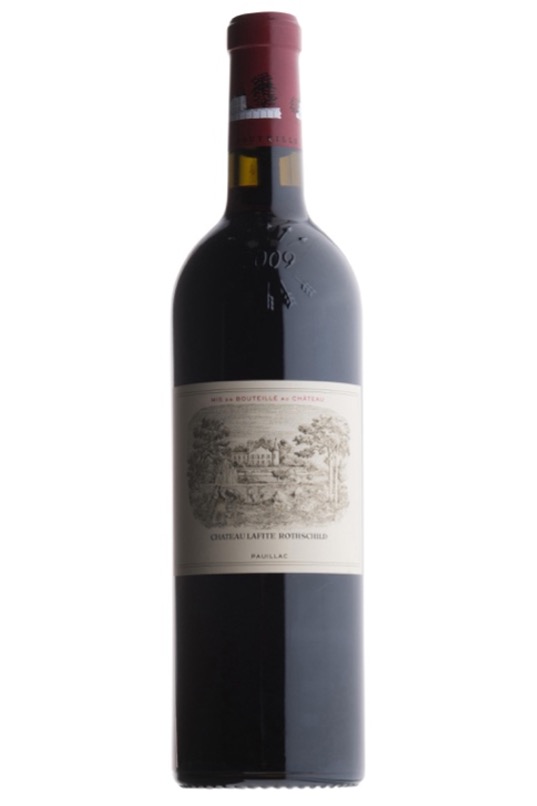 One of the legendary wines of Pauillac of the Rothschild family.
The level is the highest possible.
Perfect structure. A retracting, fancy, meditative wine.
The taste base includes oak, tobacco and cherry palette. A deep and long aftertaste, shrouded in the right tannins – age-related, but correct.
Awesome!
Upon uncorking, be sure to let the wine breathe for an hour, or better two.
My rating is 4.6 out of 5.
Robert Parker ranks this vintage 94 out of 100.
* * *

Monteverro Chardone Toscana, 2018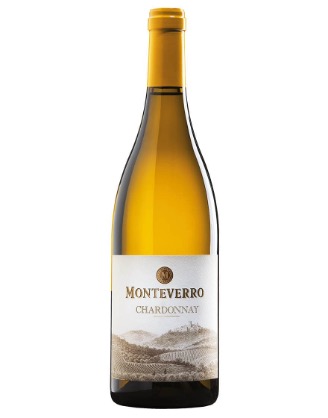 Tuscan chardonnay. Expressed. Of high quality.
Fragrant floral and fruity with vanilla-creamy sweetness, with the development in the glass, with the addition of spicy grapefruit bitterness.
Be careful – this year's vintage is very sensitive to the serving temperature. It loses a lot at a temperature of 12-15°C and plays quite differently with bright colors at a temperature of 10-12°C. It is good to taste it like champagne – from a bucket of ice.
My rating is 4 out of 5.
* * *

Chateau d'Yguem, 2000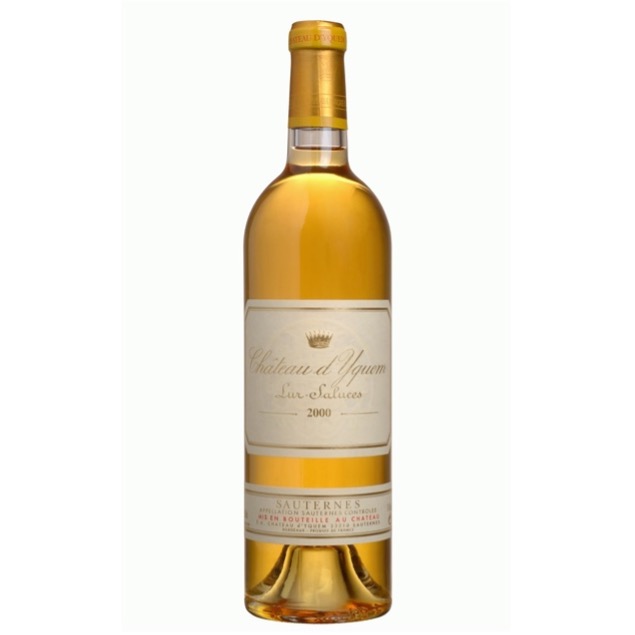 Vintage of the Millennium year. Still very young vintage, only 22 years old. These soternes live hundreds of years!
This is the best, most famous and promoted Sauternes. And rightfully so!
There is only Rieussec nearby, and it, for all its merits, does not claim the greatness of d'Yguem.
This vintage is young, but already surprisingly beautiful.
Of course, it's a 100 percent semillon. It's especially great here in the Sattern zone.
Lightness, honey sweetness, confiture of fresh ripened apricots and apricot jam…
Sauternes with a capital letter!
If you want to please your lady, pour a glass of chilled d'Yguem. She will appreciate it!
And my rating is 4.7 out of 5.
* * *

Chateau RIEUSSEC Sauternes, 2001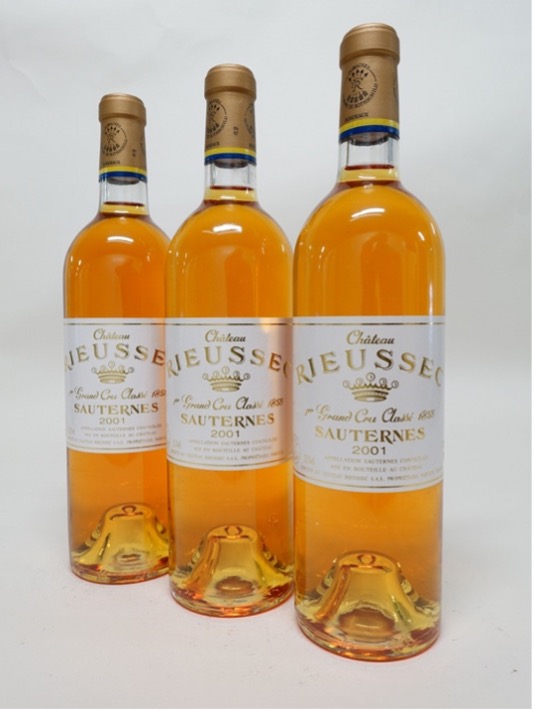 Another awesome Sauternes. Rieussec is run by ambitious Rothschilds and, to me, Rieussec, along with d'Yguem, are two of the best Satterns in the world.
One nuance: the price of Rieussec is much more democratic:).
About this vintage Rieussec:
The taste of apricot is the dominant, I would even say, dominant of apricot jam.
Soft, delicate – does not protrude saturation … and that's a plus.
Serve, for my taste, only cold. I even allow – oh, Gods – to serve it with ice! However, alternative presentation has the right to exist.
Apricot with a pleasant bitterness at a long finish and…  a comprehensive aftertaste…
Very worthy Sauternes!
The price/quality ratio is still the best!
My rating is 4.5 out of 5.
* * *