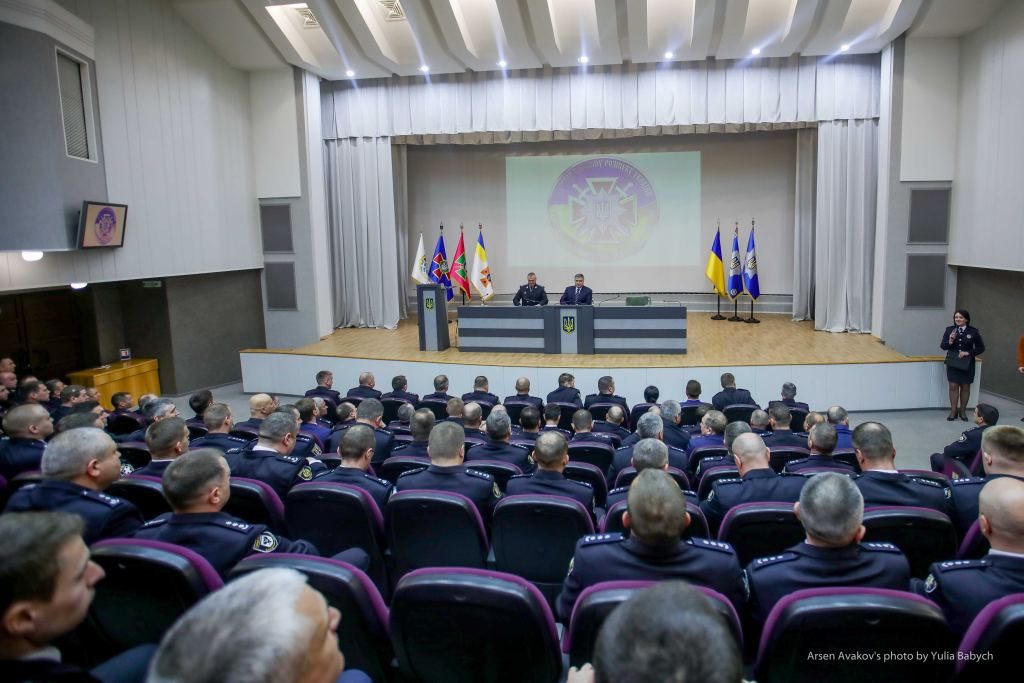 Arsen Avakov: Good performance of the criminal investigation department is the foundation of the public safety service
15 April 2019
The Minister of the Internal Affairs said it today, on April 15, during the ceremony of awarding of criminal investigation officers on the occasion of the 100th anniversary of the creation of the service.
"The work of the service is based on three principles: dedication, loyalty to the Ukrainian people and courage. For most employees, the criminal investigation is their life, a system of values ​​and priorities. We are a team here. A team of like-minded people, where everyone secures and supports a friend. A criminal investigation is a school and responsibility for every police officer. Each of you is the bearer of this tradition, regardless of whether you have been working here for two years or twenty years", – said Arsen Avakov.
The Minister noted that the work of the criminal investigation department at first glance is undistinguished but very hard and risky. During the years of independence, 71detectives died while performing their duties. "It is important to remember the courage, the dedication of the detectives, who prevented the crimes and protected the citizens – at the cost of their lives. We bow our heads in eternal memory to them."
All present honored the memory of the fallen comrades with a minute of silence.
The Minister stressed that the police now enjoy great public trust.
"The world is changing, new challenges and technologies are emerging. The old mechanisms are no longer working. Each of you has passed a difficult path. Each of you is here by vocation and people are grateful to you for this. People's trust is the foundation of your work. And all of you are the core and heart of the police. Do not betray your values, keep this high bar", – said Arsen Avakov.
The Minister expressed confidence that the staff of the criminal investigation department will mobilize their strength, abilities, skills and will continue to combat crime successfully, will do everything necessary to strengthen the rule of law in Ukraine.
"Today the criminal investigation department faces complex tasks that require patriotism and new operational skills. I am convinced that after reforming the police, the criminal investigation department will rightfully take its due place as its vanguard and the main striking force in the fight against crime", – said the head of MIA.

The Minister of Internal Affairs of Ukraine Arsen Avakov and the head of the National Police Sergei Knyazev handed the state and departmental awards and insignia of the Verkhovna Rada of Ukraine and the National Security and Defense Council to the best detectives. Sixty-seven criminal investigation officers received awards for conscientious service and on the occasion of the Day of Criminal Investigation of Ukraine.
"I wish you inexhaustible energy, the indestructibility of spirit, and bright victories in your fight with evil. Let good luck, sincere human word, respect, and the kindness of friends, as well as family warmth and comfort, accompany your life and hard service", – Arsen Avakov wished colleagues.